HIGH QUALITY
Testing EQUIPMENTS
1. Single Sheet Iron Core Loss Tester
The Digital Iron Loss Tester Is Used To Measure The Iron Losses Of Electrical Steel Directly In Watt/Kg Of Materials Like CRGO & CRNGO.
MAKE: INDIAN
DIRECT MEASUREMENT OF WATT/KG

IMMEDIATE TESTING OF SPECIMEN

USER FRIENDLY OPERATION

TESTING UP 0.02MM TO 0.65MM THICKNESS



TESTING FOR 1.0 - 1.8 TESLA INDUCTION

TESTING UP TO 19.00 WATT/KG

TABLE TOP MODEL & EASY HANDLING

ISO COMPLIANCE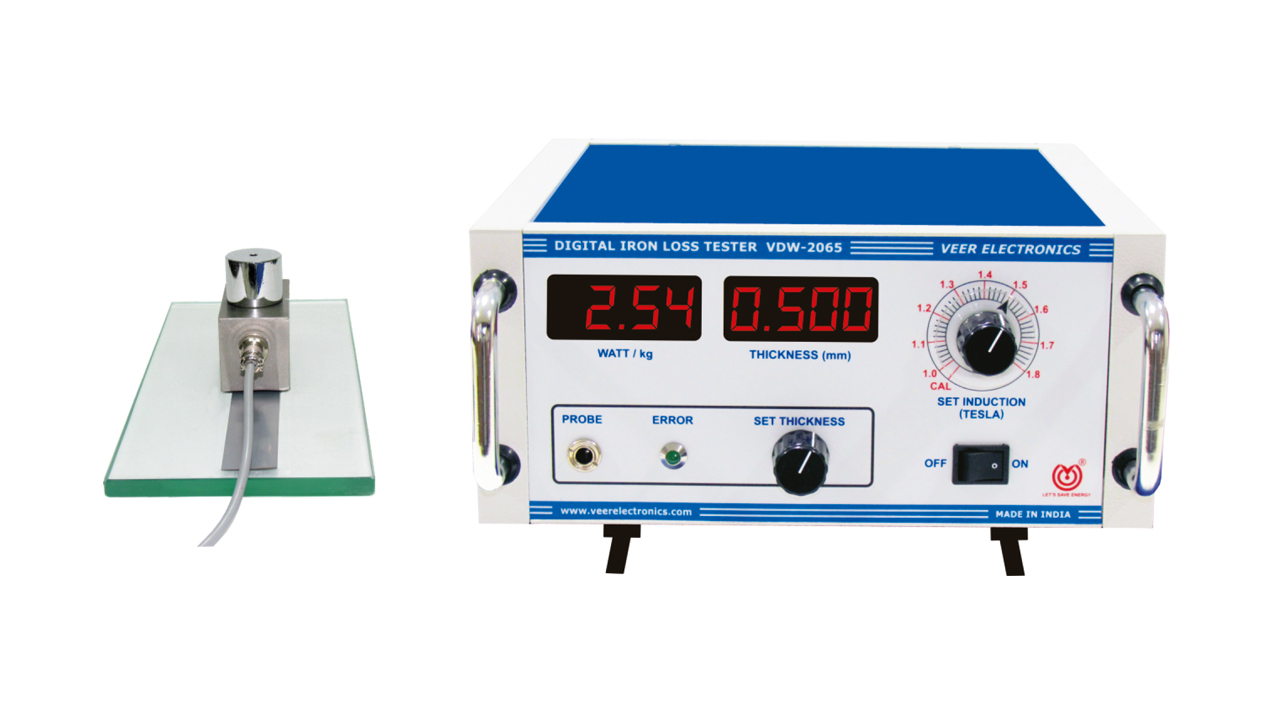 ---
2. Digital Epstein Tester
Digital Epstein Tester is complete stand-alone instrument to measure AC magnetic properties of electrical steel of all grade and gauges mostly.
It also refers IEC 60404-2 & IS: 649. Epstein Frame method is standard & worldwide accepted method to test important magnetic parameters like Watt/kg, VA/kg, Magnetizing Force, Permeability, Form Factor etc. on different induction.
This AC Magnetic Properties includes Iron Losses, Permeability and Magnetizing Force. The Epstein Tester measures the Iron Losses (Watt/kg, VA/kg), AC & Peak Magnetizing Force, AC & Peak Permeability, Form Factor, etc. at different Induction. These parameters can help you to plot the BH curve as well.
MAKE: INDIAN
DIRECT MEASUREMENT OF WATT/KG

BETTER ACCURACY THEN REQUIRED BY DIFFERENT STANDARDS.

ACCURATE SINE WAVE WITH NEGATIVE FEEDBACK.

USB AND RS-232 PORT FOR COMPUTER INTERFACING.



GENERATION OF TEST REPORT.

TAMPER PROOF CALIBRATION.

AUTOMATIC OVER VOLTAGE SHUT DOWN.

B/H CURVE MEASUREMENT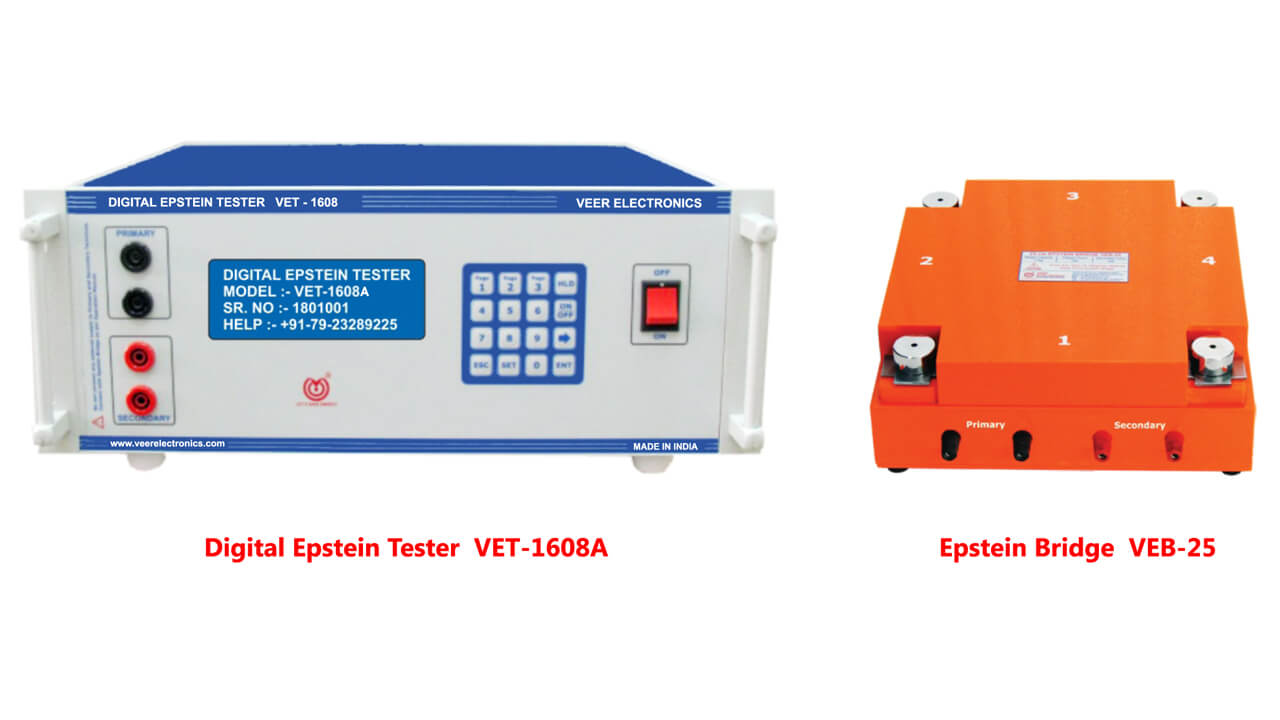 ---
3. Precision 3 Phase Power Analyzer
Accurate Instrument to test To Perform No Load & Load Test of 1-Phase & 3-Phase of Distribution, Power, Control, Isolation & other transformers.
MAKE: INDIAN
DIRECT MEASUREMENT OF WATT/KG

TRMS VOLTAGE 600V /1200V PHASE, 1050V / 2100V LINE

TRMS CURRENT 80A / 160A DIRECT


DOUBLE FUSE PROTECTION

INBUILT SURGE PROTECTION IN VOLTAGE INPUT

AUTO OVER VOLTAGE SHUTDOWN FACILITY

NABL CERTIFIED IN EQDC & ERDA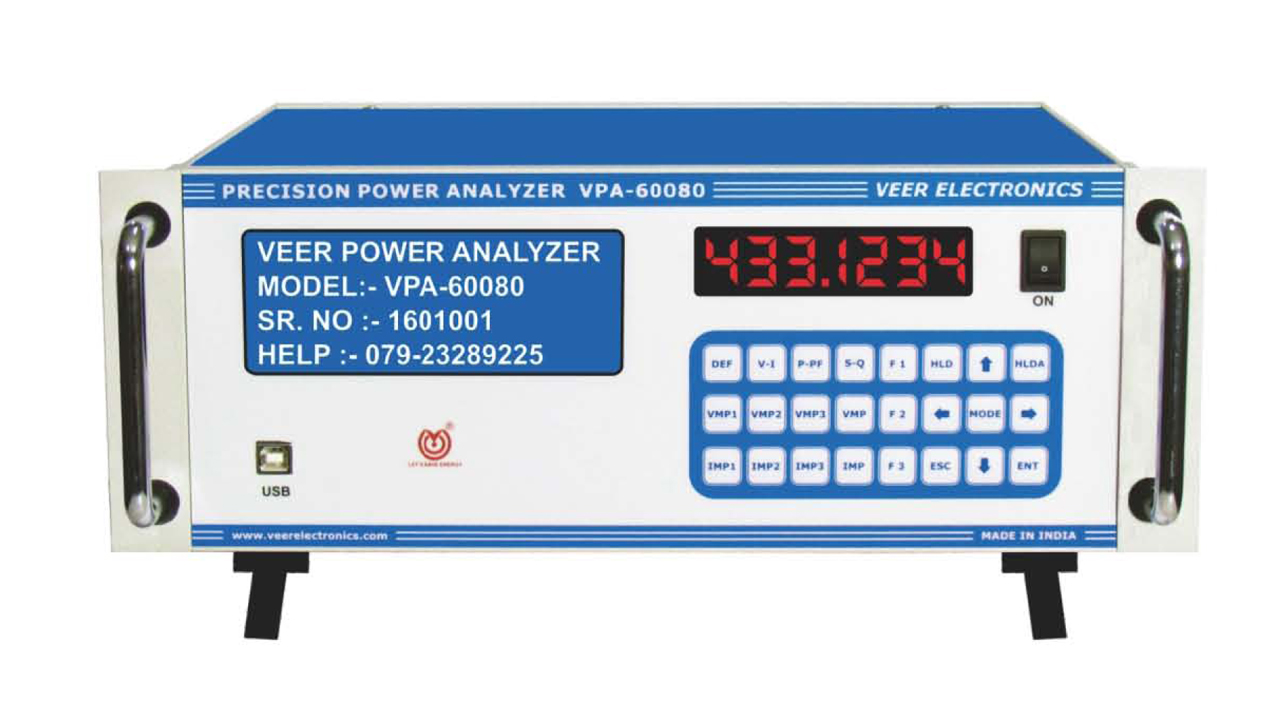 ---
4. Toroidal Core Tester
The Toroidal Core tester is used to check if the toroidal core passes the voltage and current specs as per customer requirement.
There are two windings primary and secondary, which have same number of turns. After calculating core Area of toroidal core we can test it using this instrument by applying respected test Voltage as required for different induction. We are measuring Current of Primary winding & Voltage from secondary winding to find Losses.
MAKE: INDIAN
DIRECT MEASUREMENT OF WATT/KG, AT/CM & INDUCTION

MEASURING RANGE:
VOLTAGE RANGE: 50V / 25V
CURRENT RANGE: 5AMP / 10AMP / 15 AMP
OTHER RANGE AVAILABLE ON REQUEST